FB actually penalised me for posting this. See below. It came directly from the WA Health website. I cannot recall if I served time for this in the notorious FB jail. They restricted my account for the newsfeed for 90 days. I reposted it as in link here.

https://www.facebook.com/groups/2909281562725698/posts/3102932920027227/

In case FB deletes it again, here is what I said. It came at a time I was sending my posts in my group on FB to the CHO of WA Health Dr Andrew Robertson, so I think he or WA Health complained to FB.
Feb 11 2021. George Christos expert
"Facebook App You penalised me for posting a copy of this from WA Health website. The army can administer the vaccine. That is an order made by the WA CHO. People need to know this given that plan to vaccinate children from 6 months up now. What is wrong with that? I am writing to you in this post because I cannot even report a problem or give feedback to you through the usual avenues, and you have restricted my account for 90- days."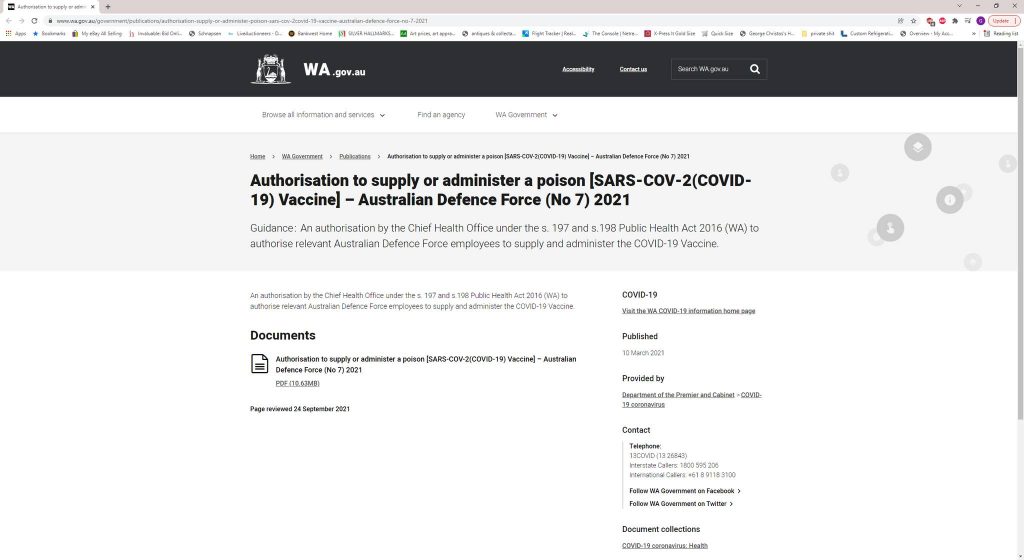 The old emergency powers may have expired but I am sure they have a provision for this in their new 2022 legislation.

Under the authority of the CHO, an authorised covid19 officer can enter, or if necessary break into and enter, your home or vehicle, blah blah blah.

We are living in extraordinary times. Why is this legislation being passed when the Australian Government as a whole is acting as if covid does not exist?

https://www.parliament.wa.gov.au/parliament/bills.nsf/BillProgressPopup?openForm&ParentUNID=C86644743AE3BBF4482588C3002BA797&

Watch this for a nice summary.

https://rumble.com/v1lu7eg-zerotime-new-aussie-legislation-to-force-quarantine-and-vaccinations-optus-.html